Wisconsin Football: Deep Dive Inside Mike Tressel's Defensive Philosophy
Madison, Wis. – Spring football has finally wrapped up, so I wanted to do another analysis for you, much like I did with Phil Longo's Offensive Philosophy, but this time for Mike Tressel and what he brings to the Wisconsin Football Defense.
You're not alone if you need to become more familiar with Mike Tressel. There is a lot to learn, given his rather short track record as a coordinator. So, let's dive into the data and see what Tressel brings to the table for the Wisconsin Football Program in the upcoming season. In this analysis, I compare Tressel to his predecessor Jim Leonhard as well as to CFB & The Top 10 Scoring Defenses of 2022 to give some perspective on Tressel and his defensive philosophy!
What's the Best Coverage Scheme? Man-Man or Zone?:
I think Wisconsin Football fans and those who get really deep into the Xs & Os will be very intrigued by the first few graphics I'm about to share. First, I'll take you back to the Coverage Scheme Jim Leonhard liked to deploy, then I'll show what Mike Tressel like's to use. Then we'll look at how that compares to the NCAA AVG & Top 10 Scoring Defenses!
You can see that Jimmy really utilized a lot of Zone Coverage throughout his Defensive Scheme. Now let's contrast that with Tressel.
Tressel uses a very balanced mix of Man-Man Coverage Schemes as well as Zone Coverage within his scheme! You'll also see that the AVG CFB Defense & AVG of the Top 10 "Scoring" Defenses are much more reflective of Jim Leonhard's heavy Zone Coverage Scheme.
But…It can be done in Multiple Ways: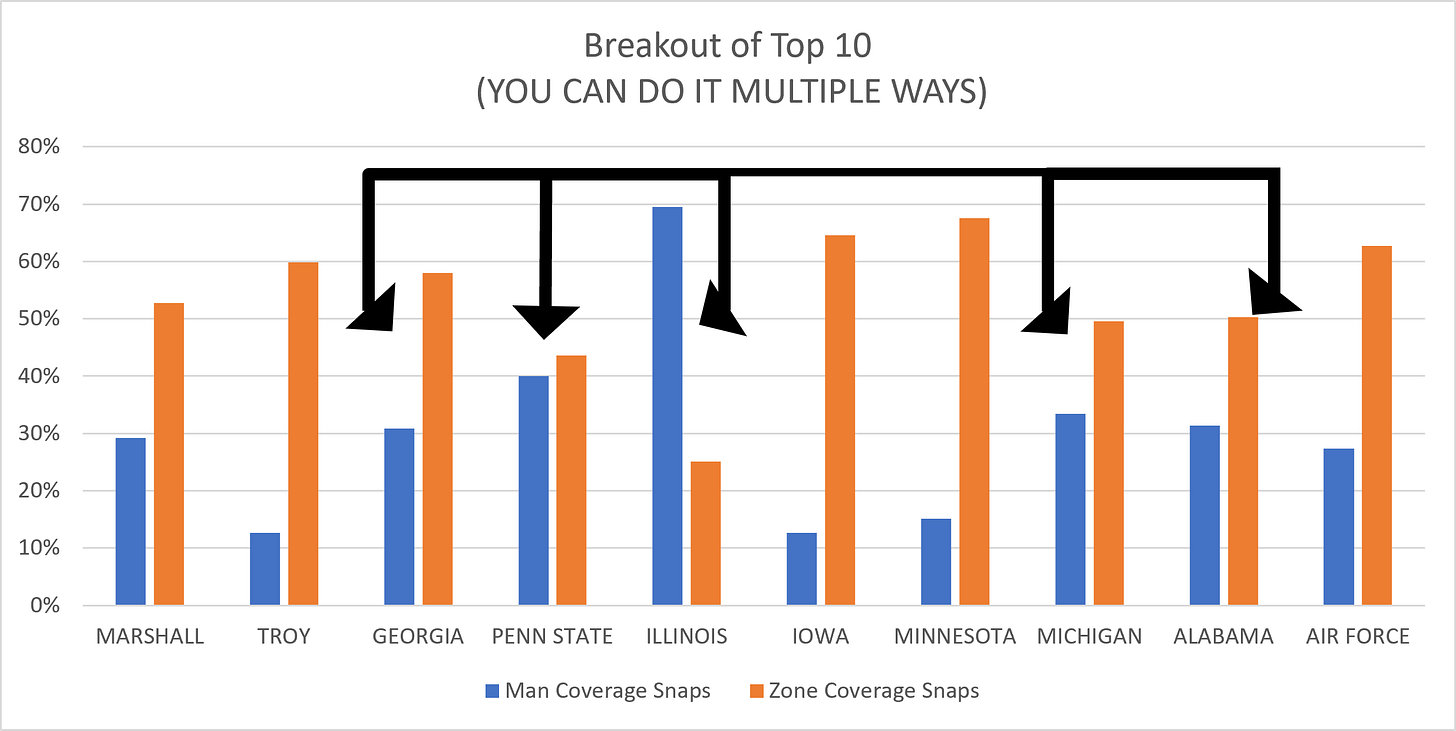 It can be done multiple ways, with Georgia, Penn State, Illinois, Michigan, and Alabama all employing >30% Man Coverage Schemes. Arguably all of those defenses I just listed would be considered the most dominant among the 10 listed. They also would be considered the most "talent-rich" programs and defenses listed as well. So there are some interesting questions hidden within that.
Are defenses like Iowa and Minnesota good because they use a scheme that allows "less athletic" players to thrive without putting them out on an island where they can more easily be exposed?
Was Jim Leonhard doing the same with the Wisconsin Defense?
Will Tressel have to lighten the Man-Man schemes and adapt to his players?
I'm not sure there's a right or a wrong answer to the first two questions. Certainly, the last one is impossible to answer until Wisconsin Football hits the field on Sep. 2 vs. Buffalo. But I will say, from a statistical standpoint, Tressel gets the edge over Leonhard in 2022! How he "Meshes the Elite" will be something I'll be watching intently.
However, Wisconsin was the better Rush Defense:
But from a Total Defense Rank & Yards/Play Given Up, Cincy stays ahead of UW!! So hopefully, whatever Tressel was doing will translate, and we can maintain or even IMPROVE our defense!!
Mike Tressel will change who Wisconsin Football uses to defend Slot Receivers:
Let's dive into the data:
So while this doesn't seem like a very big change, I can assure you it is. Basically, Tressel will continue using CBs and Safteys primarily in the Slot. However, he doesn't like to use any ED = OLBs to cover up the Slot! And he'll use a bit more Safety coverage in the slot than Leonhard did. Now for the interesting part, both Tressel and Leonhard diverge considerably from the rest of College Football in how they defend the slot by positional groupings.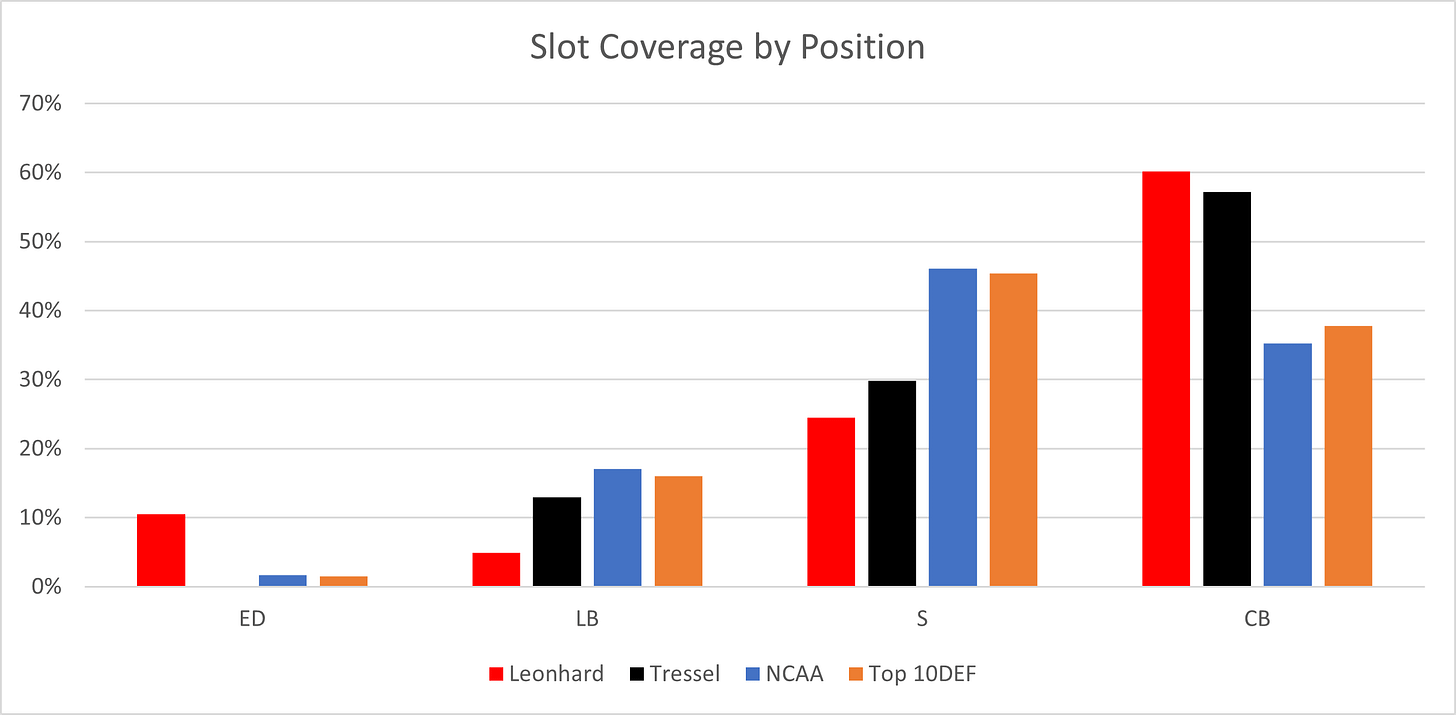 Most other Teams utilize their Saftey's to help cover slot receivers in Modern College Football. But is that the right approach?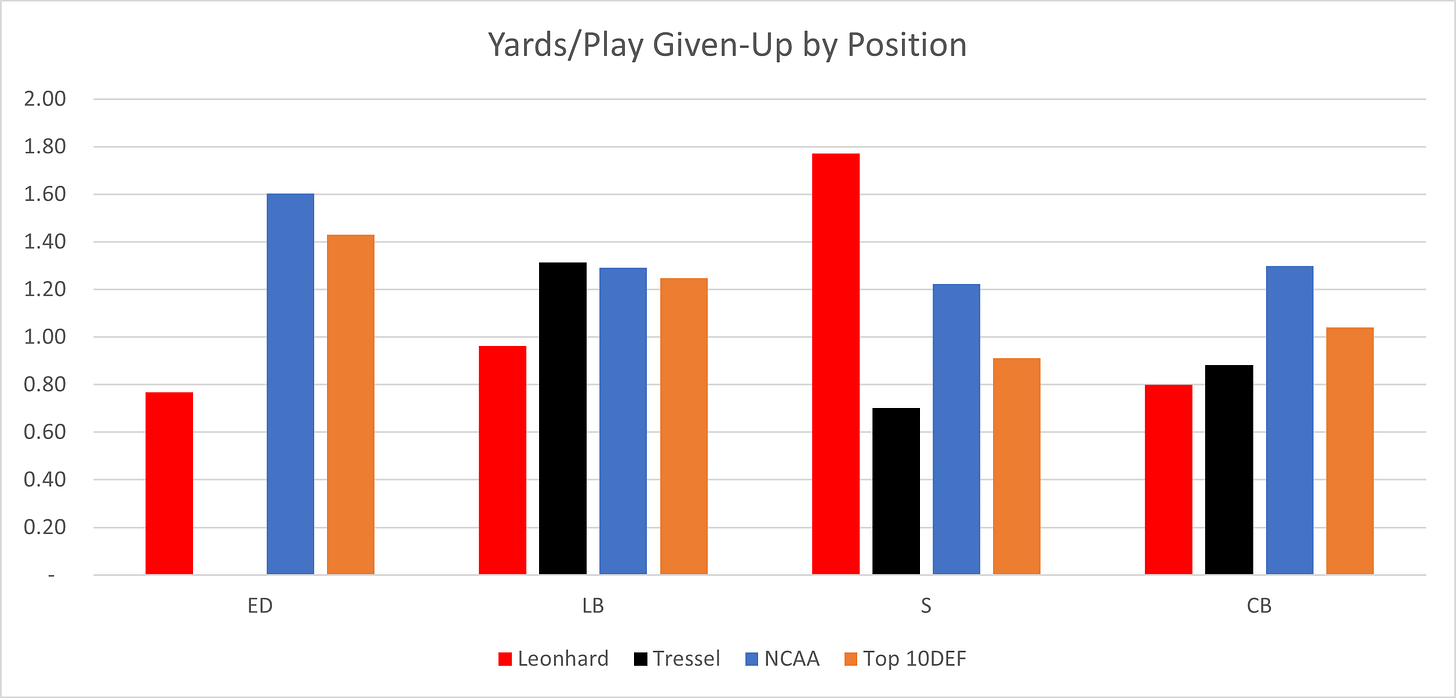 Based on this graph, I would say it's a toss-up for your S or CB to cover the Slot Receiver. In the case of Wisconsin Football in 2022, the answer was resoundingly straightforward, have a CB cover the Slot Reciever…because our safties were getting GASHED!
How does Tressel's Scheme translate to Pressure on the QB?
First, we'll have to look at who Tressel sends to rush the QB because this will also be a slight change from what we've been accustomed to from Jim Leonhard-led Badger Defenses.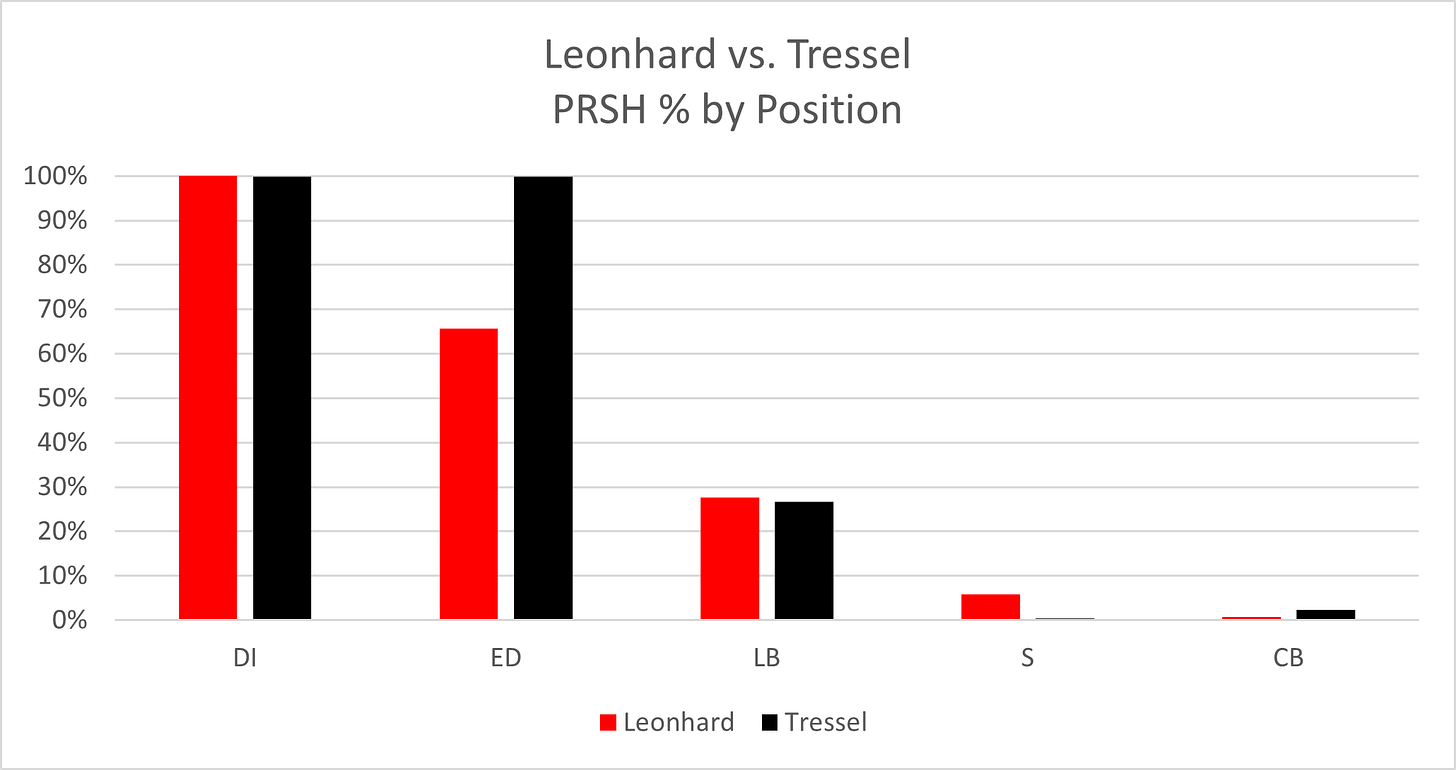 So, you can see that Tressel sends his DL & ED to rush the QB on pretty much every Pass Play. This is a dramatic shift in strategy from Jim Leonhard, who would send his ED into coverage in about 35% of Passing Situations. Tressel also sends his LBs a nearly identical amount to what Jim Leonhard would, so there won't be a major difference there. What I found super fascinating was that Tressel barely sends his Saftey's on Blitz but does send his CBs a fair amount, a near-total flip from Leonhard. Although Leonhard sent his Safteys on Blitz far more often than Tressel sends his CBs.
Here is how that stacks up vs. the competition: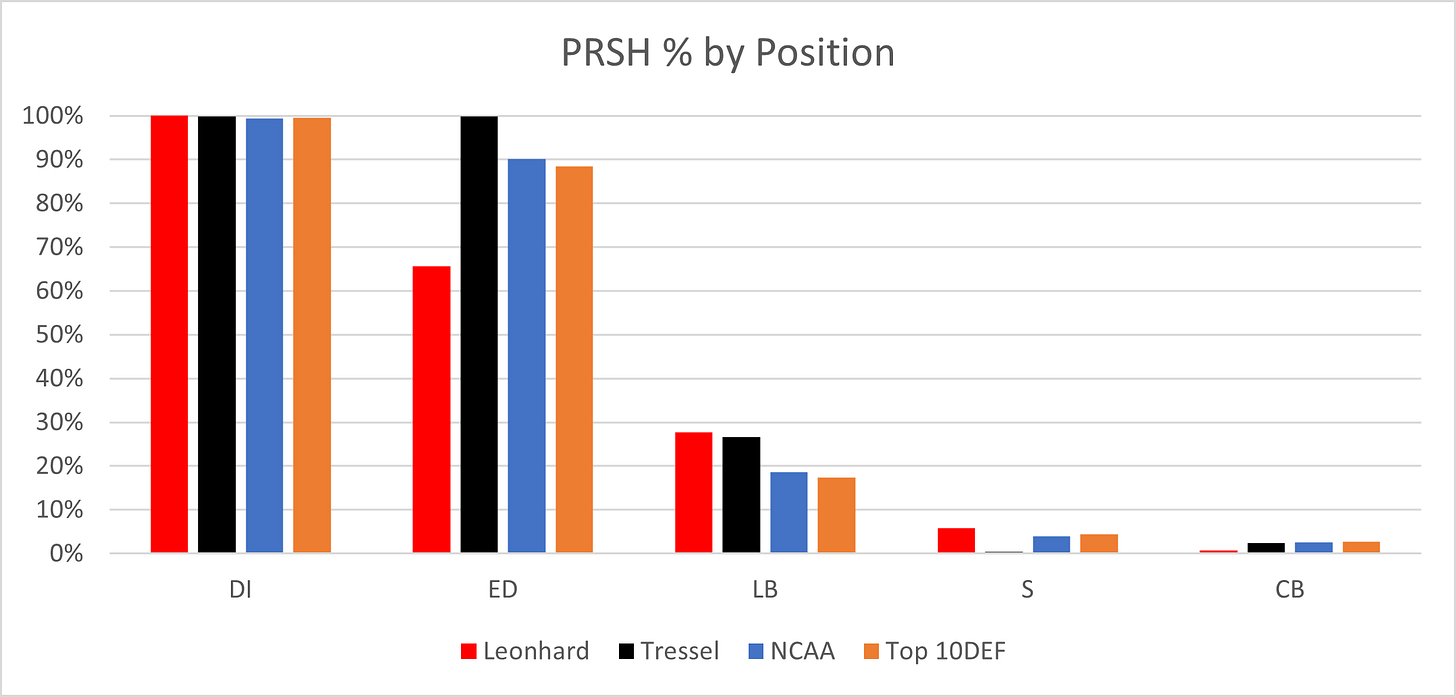 BUT HOW DOES IT TRANSLATE TO PRESSURE?!?
Pressure Rate = Pressures/Pass Rushes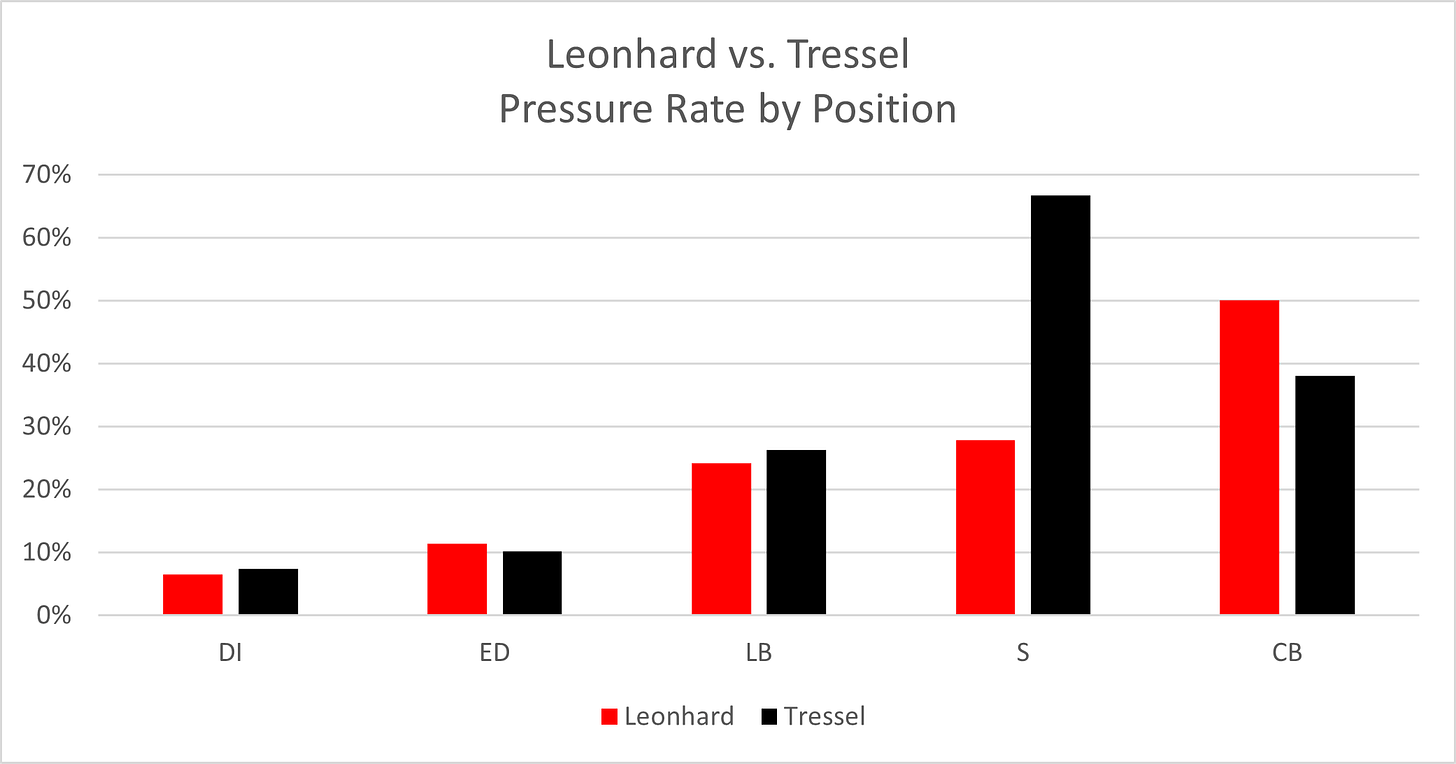 It's pretty much identical in terms of Pressure Rate, with the stark difference between S and CB pressure rates. For that, I'm going to chalk it up to the divergence in PRSH Rate for (Tressel – S) and (Leonhard – CB). Although they send them less frequently, it's really effective when they do!!!
What is most interesting to me is the ED Pressure Rates; Tressel Edge Defenders achieve nearly the same Pressures Rate but with 35% more Pass Rush Opportunities!!! That is a ton more chaos for the QB to handle, and I think that could be a major driver to why Cincinnati's Pass D has been so good under Tressel!
Just look at how it compares to the competition: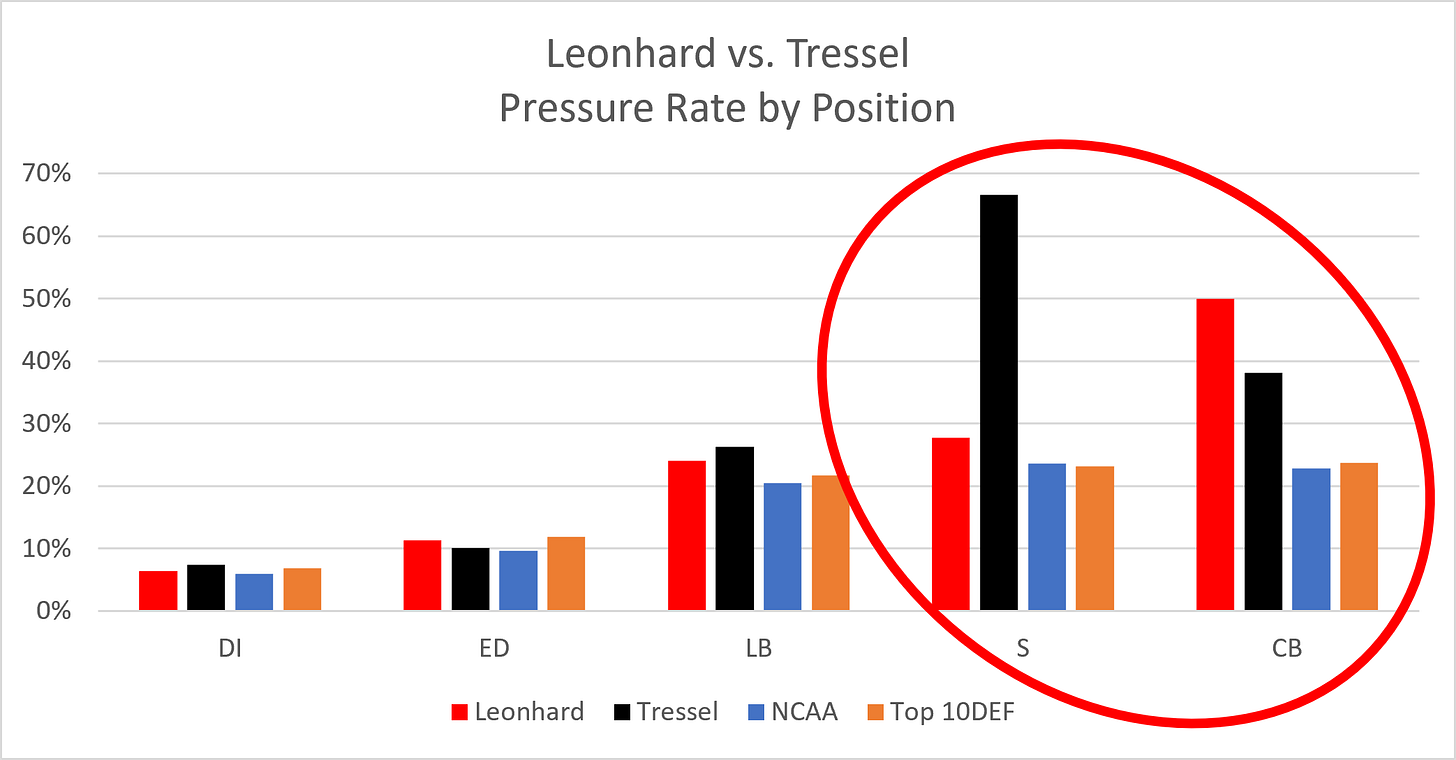 Tressel…and Leonhard are "Masters" at dialing up the pressure! So don't think that's going away anytime soon. It should have been obvious to anyone after watching "The Launch" that Tressel-led Defenses get after the QB!!!
Say goodbye to the Wisconsin Football 3-4 Defense! New Alignments Incoming:
Here is the Data: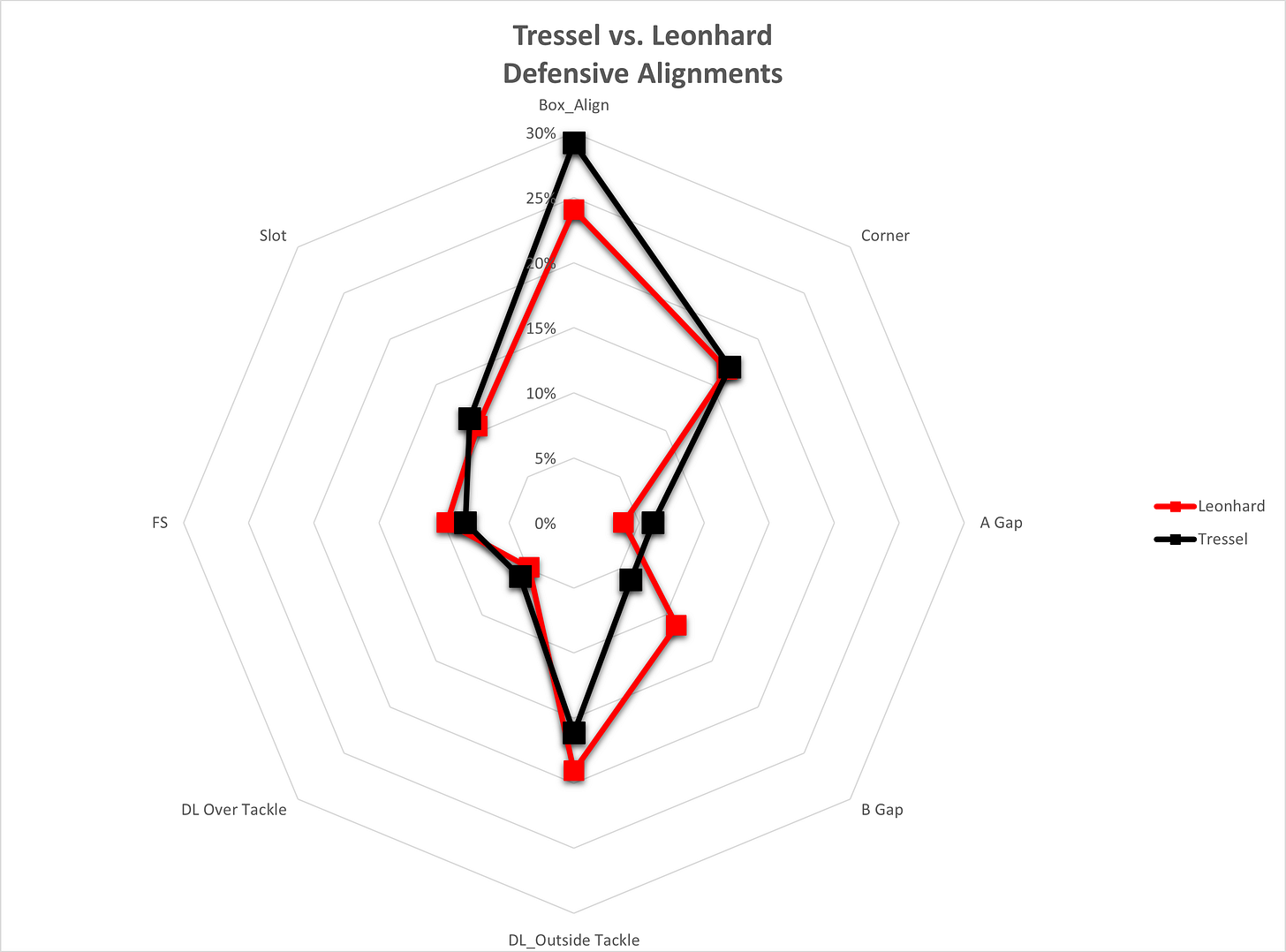 This isn't a great Xs & Os visual chart, but you can see a little bit of the picture. With his 3-3-5 Scheme, Tressel has significantly more alignment in the A-Gap and significantly less alignment in the B-Gap! How is he going to stop the Run?!? Well, he covers that by adding more LBs/S into the Box (Top of Chart). That's really it from an alignment standpoint; everything else is nearly identical to Jim Leonard's "Alignment". I thought Jesse Temple ran a great piece in the Athletic that allowed Tressel himself to speak on this topic!!
Here are the breakdowns by Position: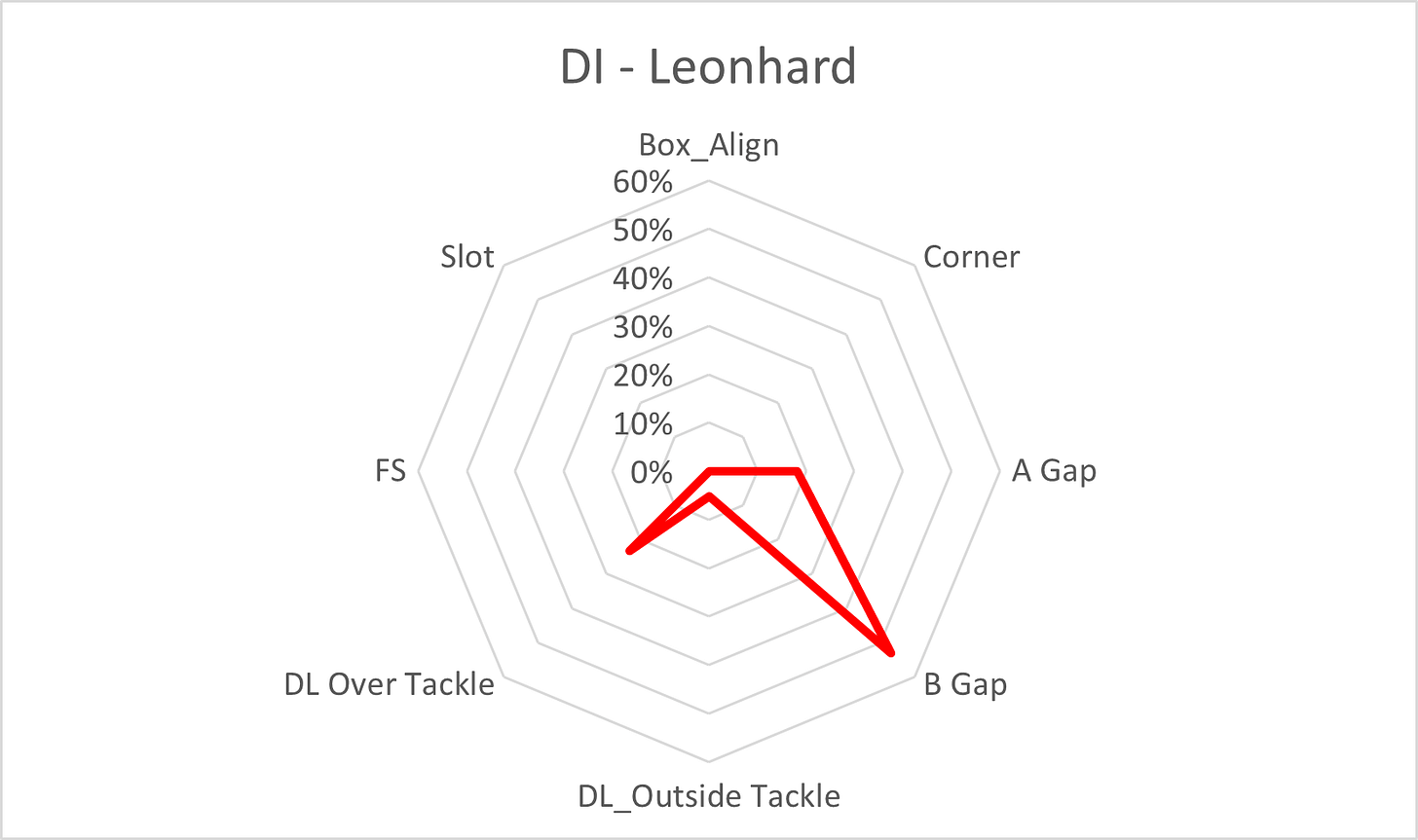 Much more A Gap Alignment, with a reduction in B Gap Alignment.
ED Defenders will primarily work Over/Outside the Tackles, with the occasional B Gap Alignment! That's about it in terms of Alignment changes from Leonhard vs. Tressel.
Why I think Tressel will continue Defensive Greatness for Wisconsin Football:
Look, when you lose a Coordinator like Jim Leonhard, fears arise. And you can't help but feel a bit uneasy going into the next season. But as I look at the data, I can say with confidence that Tressel is getting results, and furthermore, he's doing it in a way, much like Longo, with a Scheme that helps UW in recruiting. Especially with positions they haven't historically gotten "Elite" Caliber prospects QB/WR/TE for offense and S/CB for Defense. The highest Ranked Secondary Prospect under Jim Leonhard is current Wisconsin Football S Austin Brown (463rd Nationally). We've already seen that shift with the additions of Braedyn Moore (319th Nationally) and Amare Snowden (443rd Nationally) coming in the 2023 Class!
I'm extremely excited to see it unfold on the gridiron come this Fall! Hopefully, this has gotten you just as excited as me!
---
Contact/Follow us @Badger_Notes on Twitter, Subscribe to the BadgerNotes Newsletter here, and like our page on Facebook to follow ongoing coverage of Wisconsin Badgers news, notes, opinion, and analysis. You can also follow on Twitter @GardYourFickell
Join the Badger Notes watch party and stream Wisconsin Badgers games by following this link.
*Subscribe to Locked on Badgers on Youtube and wherever you find podcasts, the only daily Wisconsin Badgers podcast on the internet.
This Wisconsin Football Player Could Break School Records in 2023
Expectations for the Wisconsin football program are sky-high entering the 2023 season. Part of that is Luke Fickell taking over as head coach, and another part is Phil Longo joining his staff and implementing his air raid offensive attack, bringing the Badgers into the 21st century.
And while that's all well and good, Wisconsin needed someone capable of elevating the quarterback room to take the next step offensively. So the coaching staff went portaling this offseason and came out with a proven option to lead the charge.
That player is Tanner Mordecai, who is a quarterback to watch out for in the upcoming college football season. The former SMU quarterback transferred to the Wisconsin football program and is expected to make a significant impact in Phil Longo's air raid passing attack.
In two seasons starting at SMU, Mordecai threw for 7,152 yards, 72 touchdowns, 22 interceptions, and had a 66.4% completion percentage. Mordecai's arm talent and experience, coupled with the new offensive system, could lead him to break several passing records in his lone season in Madison.
Tanner Mordecai Could Re-Write the Badgers History Books 
Mordecai was a highly recruited quarterback out of high school, and he chose to attend the University of Oklahoma. He redshirted his freshman year and then served as a backup quarterback for two seasons behind Heisman Trophy winners Baker Mayfield and Kyler Murray. He later transferred to SMU, where he went crazy and put himself on the NFL's radar.
Mordecai's transfer to Wisconsin has generated a lot of excitement among Badgers fans. The team has long been known for its strong running game, but with Mordecai at the helm, they could have a potent passing attack as well.
Phil Longo, the Badgers new offensive coordinator, is known for his air raid offense, which relies heavily on the passing game. This could be a perfect fit for Mordecai, who has shown that he can make accurate throws and read defenses well.
If the 6-foot-3, 214-pound signal-caller can replicate his performances from the past two seasons or even come close; he has a chance to break several long-standing passing records at Wisconsin.
The school's single-season passing record is 3,175 yards, set by Russell Wilson in 2011 (the only Wisconsin football quarterback to eclipse 3k). Under coach Longo, his starting QBs have a five-year average of 3,704 passing yards per season. Also, consider that Mordecai threw for over 3,500 yards in the past two seasons.
Mordecai's impressive arm strength, plentiful opportunities, and accuracy could help him surpass that mark. Of course, there will be challenges for the Texas native as he adjusts to a new offense and a new team.
Wisconsin Football is in Good Hands 
The Big Ten is known for its physical, hard-hitting defenses, and Mordecai will likely face some tough tests on the field. However, he has shown the talent and the drive to succeed at the highest level of college football.
Overall, Tanner Mordecai is a quarterback to watch in the upcoming season. His transfer to the Wisconsin football program has generated a lot of excitement, and if he can replicate his performances from the past two seasons, he could break the single-season passing record.
With Phil Longo's air raid offense and Mordecai's impressive arm talent, the Badgers could have one of the most potent passing attacks in the Big Ten if everything breaks right. 
Why Wisconsin Football is the Most Underrated Program in the Country
---
Contact/Follow us @Badger_Notes on Twitter, Subscribe to the BadgerNotes Newsletter here, and like our page on Facebook to follow ongoing coverage of Wisconsin Badgers news, notes, opinion, and analysis. 
Join the Badger Notes watch party and stream Wisconsin Badgers games by following this link.
*Subscribe to Locked on Badgers on Youtube and wherever you find podcasts, the only daily Wisconsin Badgers podcast on the internet.
Wisconsin Football Attempting to Flip ACC Commit, Recruiting Updates, More
It's been a busy couple of days for the Wisconsin football program, especially on the recruiting front, but fear not because BadgerNotes can help get you back up to speed with a roundup of some important Badgers news you may have missed.
Wisconsin Badgers Trying to Flip a Defensive Line Commit 
Defensive line coach Greg Scruggs and the Wisconsin football program recently offered 2024 Pittsburgh commit Francis Brewu out of Columbus, Ohio, who committed to the Panthers in March.
According to the industry-generated composite rankings, he's the No. 88 DL in the country and the No. 39 player in Ohio.
Brewu, a 6-foot-2, 270-pound three-star defensive lineman, registered 25 tackles and 12.5 sacks for Thomas Worthington High School as a junior.
It's unknown whether or not Wisconsin has a real chance to flip the ACC commit, but from what I'm hearing, the Badgers coaching staff is trying to get him on campus for an official visit in June.
Wisconsin Football Makes the Cut for 2024 Offensive Tackle 
Wisconsin football currently holds just one offensive line commit in the 2024 recruiting cycle: four-star OT Derek Jensen, who pledged to the Badgers in April. However, they still need several more bodies at the position and made the cut for one of their top remaining targets.
Three-star offensive tackle Ronan O'Connell announced his top three schools: Clemson, Tennessee, and Wisconsin.
Truly thankful for every school that has recruited me up to this point. With that being said here's my top 3 schools! Recruitment still open. pic.twitter.com/PCsJtk7dwH

— Ronan O'Connell (@RonanOConnell72) May 23, 2023
According to the 247Sports composite rankings, O'Connell is the No. 39 OT in the 2024 recruiting class and the No. 13 player in Tennessee.
The 6-foot-4, 270-pound Tennessee native probably projects best at guard in college and has an official visit on the books to visit Madison on June 9.
Other Wisconsin Football News
After Wisconsin football coaches flew out to Maryland to watch 2024 cornerback Lloyd Irvin workout in person, the coaching staff extended him a scholarship offer, and he wasted no time repaying the favor, scheduling an official visit to Madison shortly after that.
After a great conversation with @Haynes_Badgers I'm blessed to receive another offer to the University Of Winsconsin #GoBadgers @DaemonDameon @PatLambert13 @BrianDohn247 @RivalsFriedman @ChadSimmons_ @MohrRecruiting pic.twitter.com/qCngPlY9je

— Lloyd Irvin III (@LloydReacts) May 23, 2023
Irvin, a 6-foot-3 unranked cornerback prospect who holds offers from Michigan, Maryland, Boston College, Michigan State, West Virginia, and several others, will be on campus for an official visit the weekend of June 9-11.
"They're a big contender," Irvin said. "This coaching staff at Wisconsin has experience getting long cornerbacks into the league and helping them develop."
Although he's not currently ranked in the industry-generated recruiting rankings, some major schools are involved or circling, so this could be a sneaky talent worth locking down to develop.
It would be an understatement to say that the Badgers' defensive coaching staff has a type with their defensive backs. If you don't have plus size and length, you can forget about getting an offer from Wisconsin at this point.
---
Contact/Follow us @Badger_Notes on Twitter, Subscribe to the BadgerNotes Newsletter here, and like our page on Facebook to follow ongoing coverage of Wisconsin Badgers news, notes, opinion, and analysis. You can also follow Dillon Graff on Twitter @DillonGraff.
Join the Badger Notes watch party and stream Wisconsin Badgers games by following this link.
*Subscribe to Locked on Badgers on Youtube and wherever you find podcasts, the only daily Wisconsin Badgers podcast on the internet.
Where Former Wisconsin Football Transfers Landed This Offseason
The transfer portal has become an increasingly popular route for college players to find new opportunities and see if the grass is, in fact, greener on the other side. And just like every other school, Wisconsin football lost its fair share of players during the coaching transition from Paul Chryst to Luke Fickell.
Several former Badgers have entered the portal this off-season in search of a better system fit, more playing time, or potential NIL opportunities on the open market.
After recently taking a look at where former Wisconsin coaches found new homes, I figured it might be worthwhile to see where the Badgers who entered the transfer portal will play in 2023, starting with the defense.
Cornerback, Avyonne Jones –> Coastal Carolina 
Blessed. pic.twitter.com/vCpXpNp3k3

— Avyonne Jones (@AvyonneJ) May 18, 2023
Former Wisconsin Football Cornerback, Al Ashford –> Utah State
Straight To It🎯 Let's Work💙🤘🏽@USUFootball pic.twitter.com/r14UmIqeht

— AL ASHFORD III (@allashford1) May 16, 2023
Former Wisconsin Football Safety, Titus Toler –> Boise State
COMMITTED! #Bleedblue pic.twitter.com/t4F2kB3ZtN

— Titus Toler (@TitusToler562) December 19, 2022
Linebacker, Spencer Lytle –> Stanford
This is a special one! Beyond thankful to receive an offer from my dream school! With that being said, I am also committing to Stanford University to finish out my athletic career and education! #GoStanford pic.twitter.com/UV7b7Z1bsx

— Spencer Lytle (@_SpencerLytle_) May 22, 2023
Defensive End, Tristan Monday –> Arizona State
Coming home! 🔱 pic.twitter.com/IVcPDUkmzT

— Tristan Monday (@monday_tristan) December 5, 2022
Cornerback, Semar Melvin –> Michigan State
COMMITTED! #SD4L 💚 pic.twitter.com/U2mdQJBwa3

— 6 (@SemarMelvin) December 14, 2022
And now, a look at where the former Wisconsin football offensive players found homes in the transfer portal…