Greg Gard had his work cut out for him entering the season, needing to replace an astonishing amount of on court production. Even though it's a small sample size, it's hard not to be impressed with the way Greg Gard has this young badger team prepared and hungry to win.
Through six games, Wisconsin sits at 5-1 (32nd ranked team, per KenPom), with their only loss coming to Providence in a game played without their leading scorer Jonathan Davis – which at this point seems more than excusable. In all honesty, it's hard to imagine a better start for this group. They've already established a marquee, resume building win over 12th ranked Houston, and proceeded to overcome a double-digit point deficit against Saint Mary's to win the Maui Invitational (first tournament win in program history).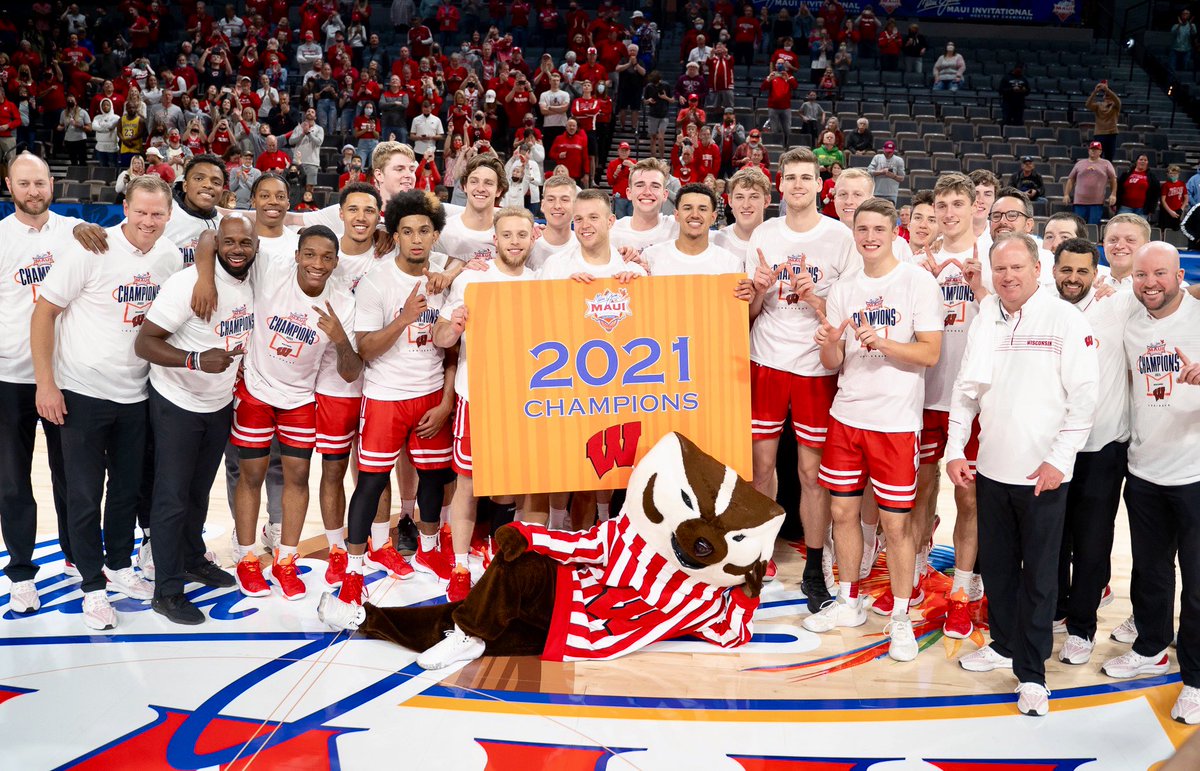 More important to me than the wins, is how they've won these games. This team has done it together and I don't mean that as hyperbole, because this group embodies playing for one another – it's truly been a joy to watch this team grind it out. There is no metric for heart and grit, but this team has it in abundance.
One of the biggest areas of concern for this inexperienced team was going to be working to find their "identity". Well, you can wash away those concerns because they've found their identity as a defensive team – and a damn good one at that. Wisconsin has held opponents to just (55.1 PPG) through their first six games, and appear to be improving with every passing game. This is a group that will frustrate their opponents wire to wire all season long. 
Why the defense is finding success
Per KenPom, Wisconsin is currently (8th) in Adj Defensive efficiency. This should come as no surprise, because any who has watched this group knows they're the real deal defensively.
Brad Davison has the ability to quarterback a defense and always be in position, Chucky Hepburn has proven to be a menace of an on-ball defender, Jonathan Davis uses his exceptional length to disrupt passing lanes, and Tyler Wahl is simply one of the best/most versatile defenders this program has seen in recent memory.
Couple those skill-sets with the sheer desire to put the clamps on and win games on the defensive end, and you have a recipe for success. I tip my cap to not only the players, but to Greg Gard as well for recruiting a versatile defensive group and getting them to completely buy in. The pieces of the puzzle are in place, and they take pride in their craft. 
What we know about the offense
The offense is understandably still finding their way (75th in Adj offensive efficiency); however, I've seen many encouraging signs thus far. Most notably, the ball movement and commitment to running the system. The casual fan cares not about the process, only the outcome. Which at this point would be criminal to evaluate the offense that way, because despite the shots not falling consistently – the badgers have shown a propensity to make the extra pass and generate countless open looks (that means the system is working). It doesn't take a rocket scientist to understand that this team is really, really well coached – and all you need to do to understand this is watch the game through a slightly different lens. 
As it stands, Wisconsin is averaging 67.6 PPG – 63% of which is coming via Jonathan Davis, Brad Davison and Tyler Wahl. This is a trend I expect to see continue throughout the entirety of the season. As we well know, this team is vastly inexperienced and will likely lean heavily on these three experienced players on a nightly basis. 
Jonathan Davis has emerged as the teams go-to scorer and star of the program (34.1 USG%), just as many had anticipated. However, he's been doing it in a way that has exceeded expectations. Davis has been able to penetrate when the offense has gotten stagnant and serve as a play-maker for the badgers. His shooting looks improved from a year ago, and while there's no way to put it into words – Johnny Davis just has "it". Having a player like Davis to build around and go to when you need a bucket is a luxury not to be taken for granted. 
Brad Davison is the next best shot creator on the badgers, and like I predicted, has been willing to let the ball fly this season. Which is a good thing, because this young team needs shot makers. Davison has struggled shooting thus far (35% from the field, 26% from 3), but as we know averages have a way of evening out. He's pressed a bit, but only because he understands that's who this team needs him to be if they're going to find success. Davison's offensive role has expanded this season (23.7 USG%), and that's exactly who he needs to be. Once the shots start falling, Davison is going to be the beneficiary of the added attention Jonathan Davis is going to garner. 
It may have taken a few games for Tyler Wahl to figure out his offensive role, but I believe he's begun to find it. Over the teams last 4 games, Tyler Wahl is averaging 12.2 points per game. The absence of Johnny Davis against Providence proved to be a valuable experience for Tyler Wahl as he grows into his new role. It highlighted the teams need to lean on his experience and leadership when UW needed a bucket, and he's played aggressive since then as a result. 
Tyler Wahl's struggles from beyond the arc are well documented, but he doesn't need to be a shooting threat to be valuable to this offense. Wahl's ability to put the ball on the deck and put himself in position to go to work on the low block is weapon enough. To put it simply, Tyler Wahl is terrific in the post – and can score in myriad ways due to his patience/craftiness with his footwork. Wahl averaged 1.107 PPP on post-up touches in 2020, which ranked in the 93rd percentile in the country. He's highly efficient around the rim and will get plenty of 1 on 1 opportunity's down low due to Crowl's ability to draw opposing big men away from the rim. He's Wisconsin's low post threat, and I believe he'll thrive in this role. 
This team takes terrific care of the basketball (9) turnovers per game, and is (15th) in the nation in turnover%. A team that values each possession this well early in the season is bound to improve as the season continues. Overall, I've been highly impressed with this team's ability to limit turnovers and still move the ball as well as they do. 
UW is also playing at a slightly faster pace than last season. In 2020, 19 seconds was the badgers average possession length (320th in the nation). This season they're down to 18.2 seconds per possession (267th in the nation), in large part to their willingness to push the ball in transition.
Overall, this has been a terrific start to the season for Greg Gard and the badgers. This has been the clean slate that all parties needed, and it's proven to re-invigorate the program. UW is playing with energy, grit and most importantly they're doing it together. There's no doubt that conference play is going to be a grind, but this team won't go down easy. My level of confidence in UW being a possible tournament team has gone up tremendously, but I'll temper expectations until Big Ten play is underway. Greg Gard is doing an outstanding job with this young team, and it's time you begin to appreciate how this team is winning games.
As Always Give us a follow on Twitter at @Badgers_Notes for more badger basketball news, recruiting and analysis.
Find More of our work at https://badgernotes.com/