Wisconsin basketball was back in action on Friday in a preseason exhibition with UW-Whitewater. It was our first look at Greg Gard's young roster that features 12 underclassmen and has an average age of just 19.5 years of age. With just three players returning that played meaningful minutes a year ago (Davison, Davis, Wahl), there have been minutes up for grabs seemingly everywhere on the court. These are my five takeaways from the 76-50 exhibition win over D3 UW-Whitewater.
1. Defense is ahead of the offense
Traditionally the badgers defense is ahead of the offense early in the season while they're sorting through rotations. However, it was abundantly clear that at this point the offense has a lot to clean up. The badgers turned the ball over 17 times on offense, and while it's just one game where all 17 players made an appearance, it's still an unacceptable number after averaging just 9 a year ago. The concerning part was that the badgers turned the ball over 8 times in the first half alone, which is when the projected rotation logged the most minutes. Also, of the 17 players that made an appearance last night, 12 of them turned the ball over at least once. Some of this can be attributed to the mixing and matching of lineups, but it'll still be a point of contention when they get back to work.
On the flip side, the Badgers defense looked pretty sharp featuring a rather lengthy starting five. Jonathan Davis and Brad Davison are both 6-foot-4, Tyler Wahl and Ben Carlson each stand at 6-foot-9, and Steven Crowl is a true 7 footer. It's possible this won't be the usual starting lineup, because both Chucky Hepburn and Lorne Bowman returned after having missed practice time. Due to the construct of the roster, the badgers will be able to play big or small depending on their opponent.
The badgers defense held Whitewater to just 30.8% from the floor and forced 13 total turnovers, 6 of which were steals. As good as they looked there are still things to clean up, but they're sure to improve as Gard settles on a consistent rotation.
Side note: Chris Vogt is going to be a really important player on the defensive end. Especially when the badgers get into B1G play.
2. Shooting could be a problem
Greg Gard needs to replace 67.2% of its three point shooting from a unit that ranked 53rd in the country last season (36.5%). There are certainly plenty of players that are capable of spacing the floor, but very few marksmen on the team.
Last night the badgers shot 25.8% on three's, a number like that will make it difficult to win on most nights. Brad Davison connected on 3 of 4 attempts last night and should be a consistent threat all year long, however, the rest of the team went 5 of 27 from beyond the arc.
I believe there is enough shooting on this roster to do what they need to do, but playing inside – out is going to be a must for this young team to generate the open looks.
3. Rotation is beginning to take form
Greg Gard has a clear top 9 players at the moment. Those players are Davis, Davison, Wahl, Carlson, Crowl, Hepburn, Neath, Vogt, and Gilmore. This is a really versatile group that can play multiple positions. The playing time and substitution patterns I thought were pretty telling. Gilmore was one of the only surprises from this group, but it shouldn't be – he just makes good decisions on the court, and takes what's given to him.
It's worth noting that nine different Badgers played more than 10 minutes in the game. Only three played more than 20 minutes — Wahl, Davis and Hepburn.
Now, that's not to say there aren't others who could push for minutes as the season progresses (Bowman/Ilver), this is a young and unproven team after all. But right now it would appear that the rotations last night were indicative of the tier breaks between players at the moment.
4. Steven Crowl has major upside
Steven Crowl finished with 18 points on 7-for-9 shooting, also grabbing 6 rebounds. Crowl is definitely bigger than he was a year ago, and he's got plenty of room to fill out these next couple years. His ability to run the floor as a 7 footer is rather impressive.
The Minnesota native has nice touch and good footwork around the rim.
Crowl is also a great shooter for his size and will help floor spacing tremendously.
How he holds up against some of the best big men in the country come B1G play has yet to be determined, although one would assume he'll take his lumps while he develops. One thing is for certain, this kid is a skilled big man with a high ceiling if he continues to develop physically.
5. Chucky Hepburn is going to make an impact right away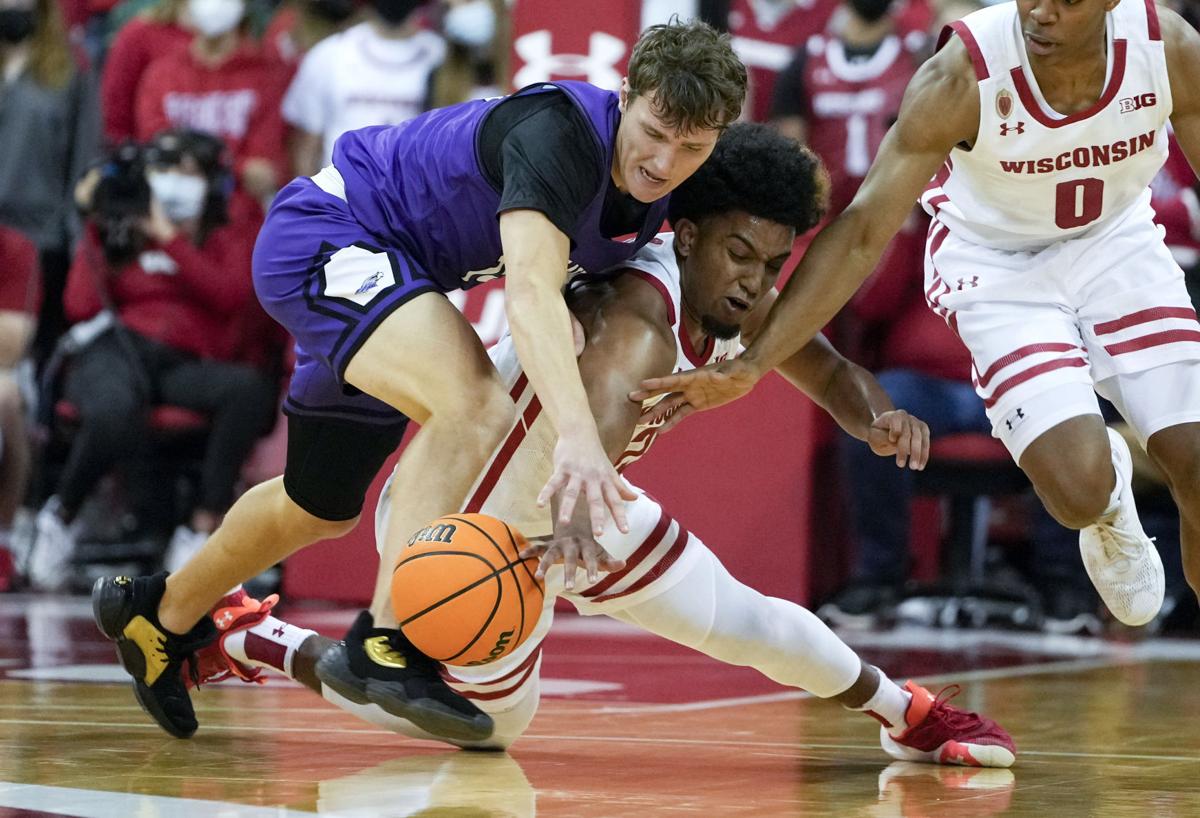 Chucky Hepburn made his presence felt with 9 points on 4-for-10 shooting, 4 rebounds, 4 assists, and 3 steals. His quickness and ability to be a play-maker on offense was evident, and will add a fun dynamic to this offense.
It was his defense that stood out the most, and I'll go as far as saying he's a top 3 or 4 defender on this team already. He's working his way back from an upper body injury that forced him to miss time, but he'll play a vital role for Greg Gard this season. His defensive minded, pass-first style of play will be a treat to watch on a young roster that's working to establish an identity.
As Always Give us a follow on Twitter at @Badgers_Notes for more badger basketball news, recruiting and analysis.
Find More of our work at https://badgernotes.com/