-Starters-
D'Mitrik Trice: A-
13.9 points, 3.4 rebounds, 4 assists. (0.931 PPP) 41 FG% | 79.2 FT% | 37.3 3P%
Greg Gard's first-ever commit saved his best for last. Once Big Ten play began Trice saw the need for someone to step up offensively, and he answered the call. Meech finished the season 3rd team All-Big Ten.
Trice has been a streaky shooter throughout his career but finished with career highs in points, field goal percentage, and free throw percentage. All while playing good on-ball defense and taking care of the basketball. At times, Trice possessed the ability to take over games with his scoring and was heavily relied upon to get the offense out of ruts. In his senior season, Trice continued to facilitate for teammates as he did a year ago. The assist numbers would have been better had the team not fallen into a collective offensive rut.
The moment never seemed too big for Trice throughout the years. Trice hit a multitude of clutch shots for a Wisconsin basketball team that relied on him late in the shot clock. Regardless of your feelings on the player, Coach Gard and the program will sorely miss D'Mitrik Trice. Meech was a leader on the court, and by the end of it all, a true point guard.
Brad Davison: B-
10.0 points, 3.5 rebounds, 2.4 assists. (0.914 PPP) 34.5 FG% | 86.8 FT% | 38.9 3P%
Davison is another player who is a streaky shooter. The most endearing quality about Davison is that he is able to affect the game regardless of his shot falling. Without fans in attendance it became abundantly clear that Davison never stops talking on the defensive end, something most coaches dream about.
For most of the year, Davison was woeful around the rim. At times it seemed that Brad was almost a liability on offense due to his relative inability to create for himself. However, Brad silenced any haters by finishing the season strong beyond the arc and became someone the offense could count on. Davison led the team in assist to turnover ratio, made three's, and unofficially led the nation in grit.
A polarizing player no doubt, but one that Wisconsin basketball fans will miss when he's gone. Few players have understood what it meant to play for the name on the front of the jersey quite like Brad Davison.
Aleem Ford: C-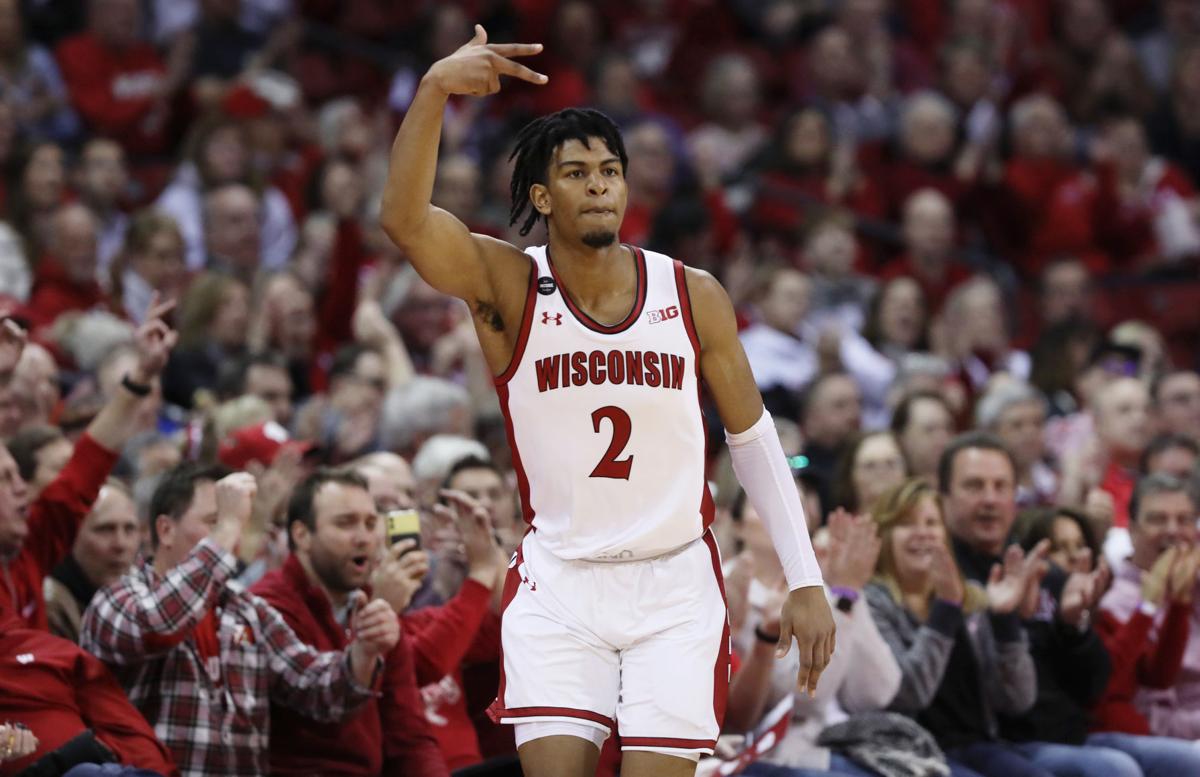 8.7 points, 4.2 rebounds, 1.1 assists. (0.927 PPP) 40.6 FG% | 78.1 FT% | 34.1 3P%
Aleem Ford is a bit of a puzzling one for me personally. I truly believe Ford is a better player than we got to see over his career. At the end of the day it all comes back to the consistency, and Ford didn't show a lot of it.
Ford was at times a game-breaker, but only for short stretches. He could give you one great half, but never two. Whenever Ford had time to think about his shot, it was assuredly a miss. Force Ford to throw one up in a hurry, and it was often a hit. As Asher Low has called him throughout his career, he is in fact something of an enigma.
On the defensive end, I thought he improved and showed great energy at times. Quietly, Ford did find a way to impact games with his defense, but again it seemed to be hit and miss. His greatest asset was his versatility. In an era of positionless basketball, I just expected more. His grade may not be entirely fair, but he was not consistently someone this team could count on.
Tyler Wahl: C+
5.2 points, 4.3 rebounds, 1.4 assists. (0.811 PPP) 43.6 FG% | 56.7 FT% | 27.8 3P%
Tyler Wahl was thrust into a much bigger role in year two. Once conference play began it became evident the badgers needed to play smaller to match up better on defense. Being the defensive swiss army knife that Wahl is, the transition to the starting lineup seemed to be a no-brainer. Wahl can conceivably guard 1-4 and even the 5 if another team is playing small enough. Wahl is a good defender who I think has the instincts and tools to be a great defender. His versatility gave Coach Gard a plethora of options on defense.
Offensively, Wahl improved, even if only marginally. It was evident the physical maturation the sophomore had gone through. His shot looked more fluid, although shooting still isn't a strong suit. The threat alone creates better spacing for the offense when he's on the floor.
Wahl does possess some playmaking ability from the forward spot, finishing the season third on the team in assists. One strong suit of his that was underutilized was getting Wahl touches on the block. Per Synergy Sports, Wahl averaged (1.107 PPP) on post touches. That put Wahl in the 93rd percentile in the entire country. I'm not sure it was entirely clear what his role was on the offense but seemed to take what the defense gave him.
Encouraging jump from the sophomore who will undoubtedly be asked to take another step next year.
Nate Reuvers: C-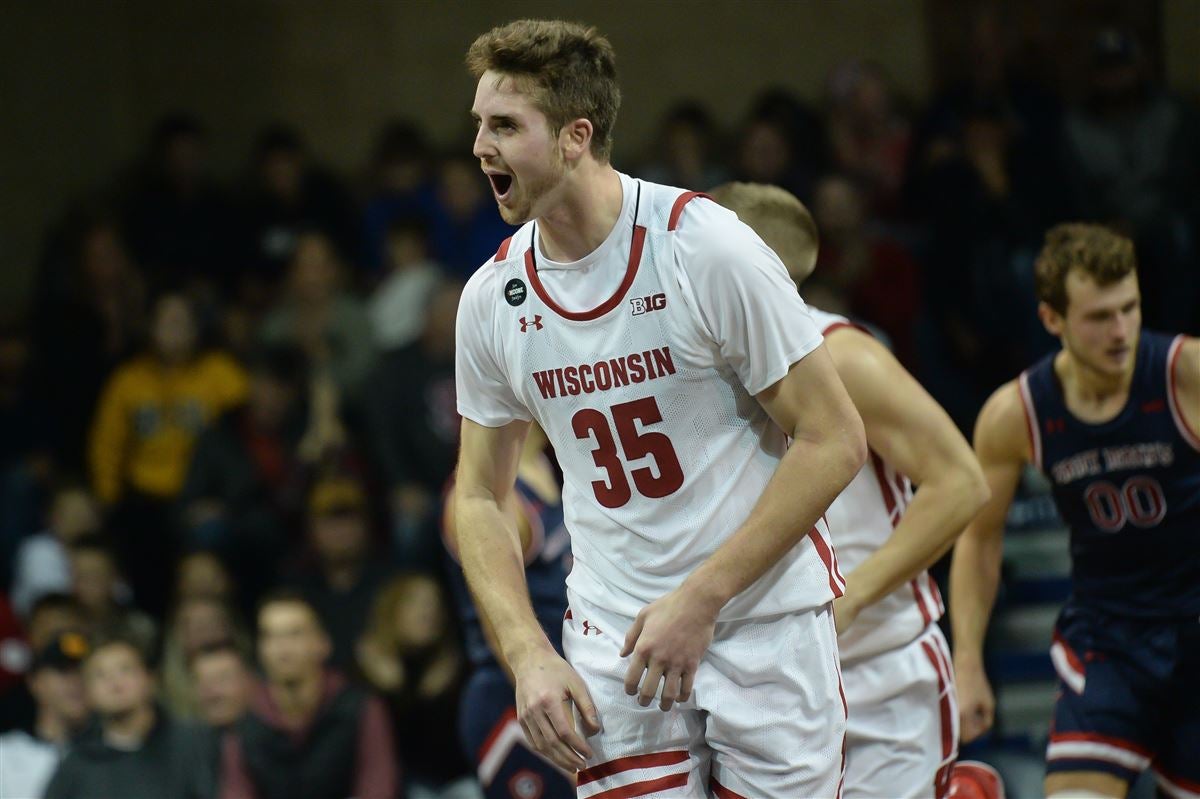 8.2 points, 3.2 rebounds, 1.3 blocks. (0.878 PPP) 42 FG% | 78 FT% | 28.6 3P%
To put it bluntly, Reuvers season was a disappointment. All-Conference a year ago, many assumed he would maintain his level of play, if not take one last jump. That couldn't have been further from what happened.
At times he seemed lost and broken on offense. Reuvers' three-point shooting disappeared entirely. His confidence was affected in a way that was hard to ignore. Reuvers' lack of presence on offense contributed to the Badgers' struggles in a big way. It was encouraging to see the senior playing better in the latter half of the season, and by all accounts having fun again.
The senior's largest contribution came on the defensive end. Reuvers leaves the Wisconsin basketball program as the all-time leading shot-blocker, which is no small feat. Reuvers was steady as always defending ball screens, which is a pillar of Gard's defensive system. However, Nate got pushed around in the paint on a regular basis by opposing big men. Rebounding was never a strength of his but seemed to be noticeably worse this year.
Tough season for the senior, but Reuvers gave Wisconsin basketball four strong years of contribution and that's how he deserves to be remembered.
-Bench-
Micah Potter: B
12.5 points, 5.9 rebounds, 1.4 assists. (1.089 PPP) 50.4 FG% | 84 FT% | 38.6 3P%
Micah Potter is a player I wish had been with the program from the get-go. A supremely talented offensive player, with one of the prettiest jumpers I've seen from a big man. He was a point guard's dream in the pick and roll/pick and pop. Not to mention the footwork down on the block and the soft touch. Potter was incredibly efficient on that end of the floor. What held him back from being an all-conference big man was his defensive consistency. Gard was often in a tough situation having to balance playing time between his two big's that both offered something different. When he had his shot falling, there were few people that could score in bunches the way Potter was capable of.
The defensive end proved to be Potter's Achilles heel. This is why I wish Micah had been in the program from day one. It's a tough system with strict principles that he never quite mastered. Teams knew Potter struggled to defend ball screens and often capitalized. By season's end, he was performing marginally better, but for a team that is a defense-first, that wasn't good enough. Defense alone was what kept Potter from playing 30 minutes a night.
Micah Potter was one of the most valuable players on the roster. What he offered on offense was something this team sorely needed. His contributions to the program in such a short time didn't go unnoticed. The ceiling of this team would have been significantly lower without his presence
Jonathan Davis: B
7.0 points, 4.1 rebounds, 1.1 assists. (0.842 PPP) 44.1 FG% | 72.7 FT% | 38.9 3P%
I was on record well before Davis stepped on campus stating he would be the program's next star. After year one, he did absolutely nothing to change my mind. I think it speaks volumes that as a true freshman Davis played 24 minutes a game in an eight-man rotation that featured six seniors. As the year wore on, Davis found himself closing games more often than not.
On offense, it was rather unusual to see Davis take an errant shot. In fact, I wish Davis would have taken it upon himself to get to the basket more. The freshman was in my opinion, the team's best playmaker. What he brought to the team was a skill-set unlike anyone else on the roster. Davis's ability to get to the rim and finish was a welcomed sight on a team devoid of players who could create for themselves.
I liked what I saw from Davis in transition, flashing a natural euro step with a knack for getting to the bucket. Davis has a knockdown mid-range game, something I'd like to see him focus on hunting more next year. Per Synergy Sports, Davis averaged (0.933 PPP) on iso's, ranking in the 75th percentile in the country. Jonathan Davis showed the ability to score from all three levels and has all of the tools to be a complete offensive player.
On defense, Coach Gard made it clear he felt as though he was one of his five best defenders. Davis was a strong on-ball defender who was prone to a mistake or two from time to time due to his aggressive style of play. It was clear that Davis was one of the best athletes on the team, but where he made that abundantly clear was on the glass. I feel comfortable saying Davis is one of, if not the best rebounding guard this program has had in recent memory. Not to mention, Davis led the team in steals despite being fifth on the team in minutes played.
Encouraging freshman season from Davis on a senior-laden roster. The future is insanely bright for Davis. Becoming an all-conference performer is just around the corner.
Trevor Anderson – B
3.1 points, 1.4 rebounds, 1.2 assists. (1.072 PPP) 53.2 FG% | 66.7 FT% | 54.2 3P%
Trevor Anderson was essentially everything you could want in a backup point guard playing only 14 minutes a game. He provided energy and tried to make plays for others. While athletically limited in comparison to other Big Ten guards, he did whatever he could to give the team what they were missing each night.
Offensively, Anderson took what was given to him. He may have only taken 24 attempts from three but you can't argue with the results (54.2%). He was efficient from the field and took care of the basketball (2.8 assist-to-turnover ratio).
Anderson wasn't able to defend some of the conference's more athletic guards when they go downhill, but he played within the system and worked to get over ball screens. He did everything that was asked of him, and this was the best basketball of his Badger career.
-Other Notes-
(OVERALL RECORD 18-13) (11-11 in conference)
Ranked 12th in KenPom Rankings
Unranked in the AP poll
OFFENSE: PPG (Adj. Offensive Efficiency – 27)
DEFENSE: PPG (Adj. Defensive Efficiency – 14)
Per teamrankings.com
Wisconsin gave up 27.8 ppg in the first half (8th nationally)
Gave up 36 ppg in the 2nd half of games (125th nationally)
(1.034 PPP) on offense
(0.947 PPP) on defense
Offensive distribution per KenPom
37.2% of points on 3's
46% of points on 2's
16.8% of points from the FT line
In the end, expectations may have been too high. This was not the great team as many had thought entering the season, myself included. This was a good team, that at times showed glimpses of being great.
The conference was extraordinary this season and if nothing else reminded us just how hard it is to win in the Big Ten. The Wisconsin basketball program will graduate a strong senior class, full of significant contributors who will give way to an inexperienced roster next season.
Thanks for the memories, On Wisconsin.
As Always Give us a follow on Twitter at @Badgers_Notes for more badger basketball news, recruiting and analysis.
Find More of our work at https://badgernotes.com/